Scrivi una recensione direttamente sul nostro sito
Brilliant experience. My favourite bit of the holiday. As we hadn't booked direct we didn't get to choose the menu so we had to go with what the other ladies in our group had selected which was pizza, gnochii, tiramisu but actually it was great to create it all from scratch and the chef ensures your dough is exactly right... there is no escape :-). Good fun, informative, lovely company with the ladies from the USA and then we got to eat it all for lunch with our choice of wine and soft drinks. I took along my 13 year old daughter and she had a great time. I would DEFINITELY book again. In fact I would love to do her weeks course if I could.
What a wonderful way to spend precious time in Italy. On arrival the staff at the hotel were so welcoming. We soon met our Chef, Vincent. We cooked a great menu with his help and guidance. The owners of the hotel were wonderful to talk to over the lunch we cooked, which we ate in the garden. Can't say enough about such a wonderful experience- thank you
Dear Sue and Meg, many thanks for your excellent review. It was a real pleasure to have met two friendly persons like you, and we are very glad to know you spend precious time here in our hotel. All our staff thanks you for your appreciations, and it's a great satisfaction for us to know that you enjoyed very much your experience in our Cooking School. This is a big news of this year with which we hope to convey to our customers the curiosity and the desire to discover all the secrets of Italian cuisine, unique in the world, learning together with our chef how to prepare a typical Mediterranean dish. We can't wait to welcome you soon to give you again a wonderful experience with us. Warmest regards. Andrea e Giovanna

Nonna Gianna Sapori Mediterranei Staff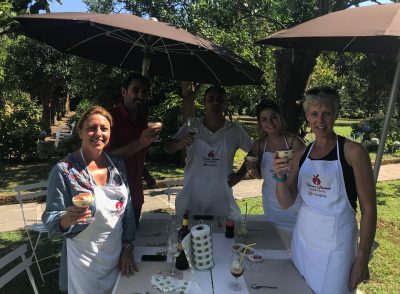 Our chef was awesome, very entertaining and helpful a great morning very well spent.